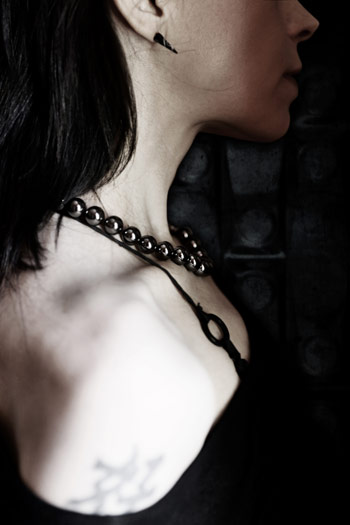 Karmilla Shelly is an artist and fine art photographer based in Rome, Italy.
She studied scenography at the Academy of Fine Arts of Rome and she has a degree in contemporary art criticism.
Karmilla uses photography and video as a creative media since she was a student and she worked several years in the film industry as production designer.
She also uses photo manipulation to create surreal and conceptual compositions that are focused on existence, relationships, grotesque and classic mythology.
Inspirations for her work come from Greek Classics, Nordic Romantic literature and Renaissance masters.


PUBLISHED ON:
Afi Magazine
BeautyMute Magazine
Bevie Magazine
Beaunu Magazine
Beautivation Magazine
Dark Beauty Magazine
Darkest Goth Magazine
Femme Rebelle Magazine
Féroce Magazine
Imirage Magazine
Kultur Magazine
Model Citizen Magazine
Promo Magazine NYC
Prolific Quartely Magazine
PUMP Magazine
Sarta Magazine
Stubborn Magazine
Surreal Beauty Magazine
VGXW Magazine by Virtuogenix


EXHIBITIONS:
2018 Rome, Italy, Group Exhibition, "Premio Medina. Sezione Fotografia", Medina Gallery.
2018 Athens, Greece, Group Exhibition, "Fine Art", Blank Wall Gallery.
2017 Rome, Italy, Group Exhibition, "Il Mostro #8", TAG - Tevere Art Gallery, RAW - Rome Art Week.
2015 Rome, Italy, Solo Exhibition, "Frammenti", Defrag.
2014 Rome, Italy, Solo Exhibition, "Music and Prospective", 30 Formiche.
2013 Rome, Italy, Group Exhibition, Dodici Pose.


PUBLIC PROFILES:
FACEBOOK: www.facebook.com/karmillashellyphotography
INSTAGRAM: www.instagram.com/karmilla_shelly
KAVYAR: kavyar.com/metcfcbzpe0n
SAATCHI ART: www.saatchiart.com/karmillashelly
ARTSPER: artsper.com/en/contemporary-artists/italy/22225/karmilla-shelly